Removable wall decals are made from vinyl. Vinyl is a thin yet durable material about the thickness of 2 coats of paint. Our wall decals come in a matte finish and look "hand painted" once applied.
Wall decals are removable without damage to walls but they are not reusable.
Our decals are die cut which means they do not have a "background".
​They can be applied to any smooth surface ( Walls, Laptops, Mirrors, Glass, Etc.)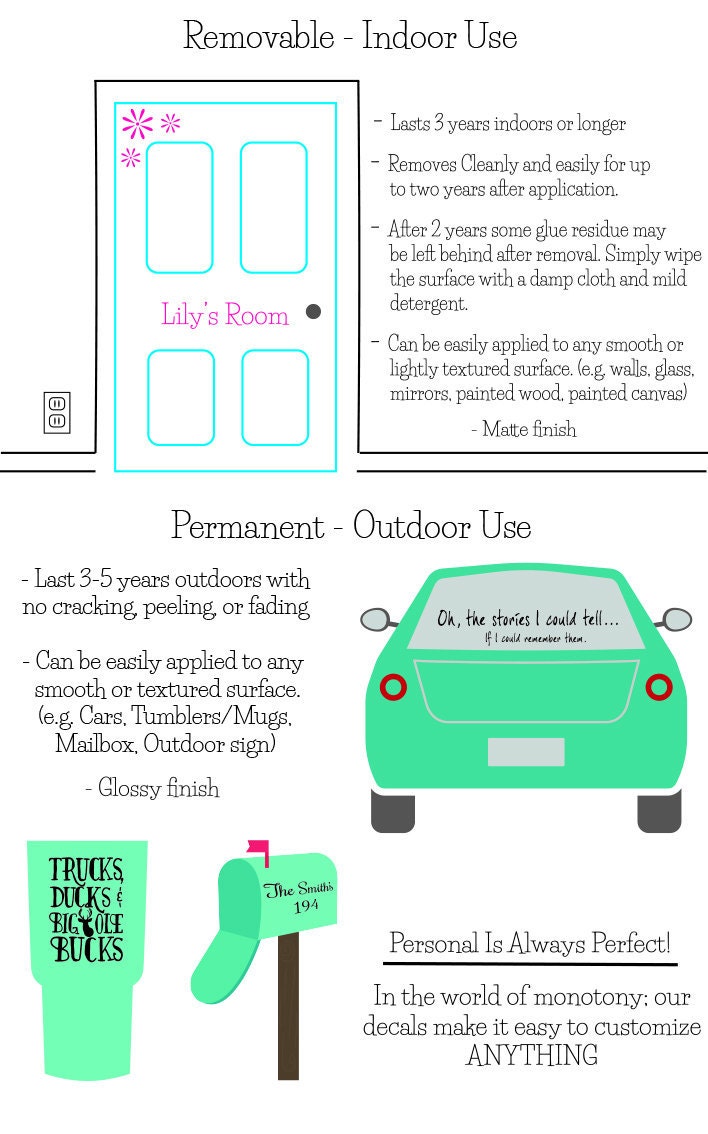 No, our removable wall decals are intended for a one time application only. They will stay in place until you decide to remove it; but once removed it cannot be reapplied or reused.
We recommend waiting at least 3 full weeks after painting your walls to allow time for the paint to full cure. Before applying your purchased decal try your test piece that comes with your order. If you test decal sticks easily then the walls should be ready and you can now apply your purchased decal. Please also see our FAQ on "What is VOC free paint" to ensure your paint type will be compatible with our decals. 
VOC free paint is paint that has little or no chemicals in it. Some popular brands offer VOC free paints. Vinyl decals WILL NOT stick to walls that have been painted with VOC free paints. If you are unsure what kind of paint is on your walls please request a FREE test piece prior to purchase. If your test piece sticks easily you should be okay to purchase a decal.
Should your decal get any dirt or smudges on it you can easily wipe it clean with a damp cloth. 
When you are ready to take your decal down (maybe your going to repaint the room, moving, updating decor etc.) all you have to do is start at a corner of your decal and get a small piece lifted and then slowly pull off the wall. If you the decal is a quote you will need to remove each letter separately.  If you are having trouble the heat of a blow dryer will help soften the vinyl making it easier to remove. We also have a video on YouTube you can view.
Please note the manufacturer of the vinyl we use states that it is designed to "remove cleanly and easily for up to 2 years after application" Dandelion Decals LLC can not be held liable for any damage that may occur as a result of using one of our wall decals.
Items usually ship from our shop in Columbia, SC 2-4 days after payment is received.
Decals ship rolled in a hard shipping tube to protect your item from damage.
We use USPS 2-3 day Priority shipping for all of our orders with the US.
Due to the nature of our items being made to order and a one time use only we generally do not accept returns. If your item arrives incorrect or damaged please let us know as we will replace it immidialaty at no cost to you the customer.
To Process a Return of an Unused Decal:
Contact me at MyDandelionDecals@gmail.com within: 7 days of delivery
Ship unused items back to me within: 14 days of delivery
Buyers are responsible for return shipping costs.
Items must be in there original state and packaging to be returned.
The following items can't be returned or exchanged Because of the nature of these items, unless they arrive damaged, I can't accept returns for:
Custom or personalized orders
Used or partially used decal
I will only use your shipping and billing address, and contact information
To communicate with you about your order
To fulfill your order
For legal reasons (like paying taxes)